Holiday Safety Tips
12/2/2013 (Permalink)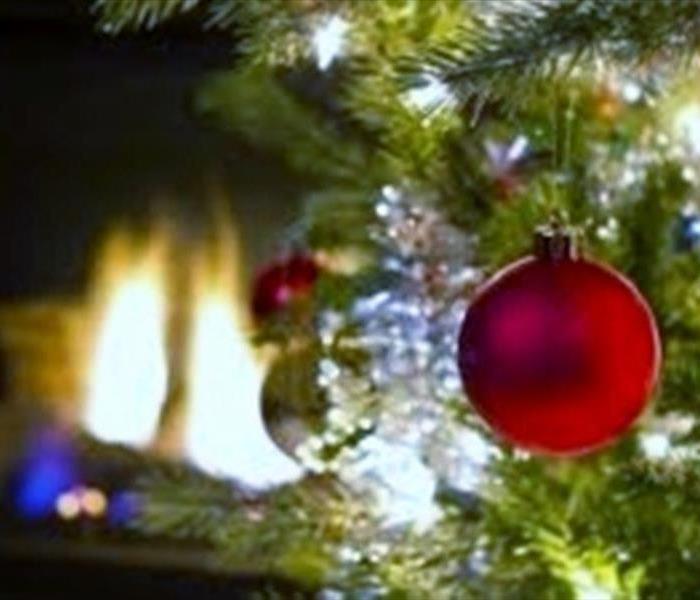 Each year in the United States, 21 million doctor visits and 20,000 deaths are chalked up to home accidents. The leading cause of home accidents is falls, followed by poisoning, fire, choking, and drowning. This month's blog will address the #3 cause of death, fire, but it should be noted that all of these types of accidents are preventable. In any case, I will give you some information on holiday hazards and how to prevent disaster.
December is the peak time of year for home candle fires and electrical fires. In fact, candle fires are four times more likely to occur during winter holidays. So how do you prevent candle fires? Well, the most obvious way is not to burn candles, instead opting for the flameless variety. But, if you are like me, that is not an option. I like candles too much not to burn them, so instead I follow some simple safety rules:
1) Only burn candles in approved candleholders, on stable surfaces.
2) Keep the candles 12" from anything flammable.
3) Burn candles in a well-ventilated area. To avoid black soot on surfaces, choose candles with a 100% cotton wick.
4) Blow out candles when leaving a room or when going to bed. I use a candlesnuffer to minimize smoke and loose embers.
5) Keep candles away from little fingers and wagging tails!
Definitely keep candles away from Christmas trees! A heat source too close to the tree causes one in six Christmas tree fires. When purchasing your Christmas tree, consider a flame-retardant artificial tree. If this is not an option, perform a "Freshness Test" on an evergreen: give it a little shake. If a lot of needles fall off, the tree is not freshly cut. Also, bend the needles between your fingers. They should not break. Once you've determined that your tree is safe and you bring it home, place it at least 3 feet away from fireplaces, space heaters, or central heating systems (the same goes for your wreaths and pine cones!). Do not block exits with your tree. And make sure your tree has plenty of water every day. When decorating your tree, try to choose non-combustible and flame-resistant materials, and plastic tinsel.
According to the U.S. Consumer Product Safety Commission, 12,500 people end up in the emergency room with decorating-related injuries each year. Of these, 5,000 are from electrical shocks or burns. There are some simple tips you can rely on to minimize your chances of serious injury from your holiday lights! For starters, LED lights are safer. If you are buying new lights this year, consider LEDs. They do not produce the same amount of heat as traditional lights. Always, always, always look for the safety tag on holiday lights. This usually reads "UL" for "Underwriters Laboratories," but may also read "ELT" or "CSA". (It is important to note that when you are buying electrical toys, the same safety tag should be present!)
Before hanging your lights, check for fraying wires. When replacing bulbs, unplug the light string first, and be sure to match voltage and wattage of the original bulb. Do not overload your electrical outlets or create chains. And never use electric lights on a metallic tree. If the wire is faulty, it can cause a shock to whoever touches the tree!
When hanging outdoor lights, start with proper ladder safety. Keep electrical connectors off the ground and away from metal rain gutters. Use insulated tape or plastic clips to hold the light string in place. Use an outdoor timer certified by CSA International. And always turn off the lights when you leave the house or go to bed.
Last, but certainly not least, I have some fireplace safety tips for you this holiday season. Some people use their fireplaces for warmth, while others use it for ambience, but everyone should use them safely. Do not use your gas fireplace if the glass panel is removed, cracked or broken, and only allow a qualified person to replace parts. According to the American Red Cross, 36% of people with fireplaces report they never cleaned or inspected their chimneys! It is recommended that you hire a chimney sweep once per year to clean and inspect your chimney. You can find a certified one at http://www.csia.org. It is a good idea to have your chimney capped as well to avoid birds and squirrels becoming trapped inside.
Before starting a fire, check to see that the flue is open. Choose dense wood, such as oak, that has been split and stored in a high and dry place for at least 6 months. Do not overload your fireplace, and do not burn wrapping papers. Place logs at the rear of the fireplace on a metal grate, and use kindling to start the fire. Always use a spark guard.
While there is no guarantee that you WON'T experience a home fire this holiday season, if you follow these tips, you will be less likely to suffer fire damage. Nevertheless, accidents happen. If an accident affects you, or someone you know, please call us. We are available 24/7 and 365 days each year. Once the fire damage mitigation begins, SERVPRO of Burlington/Mt Holly will keep you informed and answer your questions, all while working to help make the fire damage "Like it never even happened." Everyone here at SERVPRO wishes you and your family a safe and happy holiday season!