7 Reasons to Call SERVPRO of Burlington Twp./Mt. Holly
7/27/2022 (Permalink)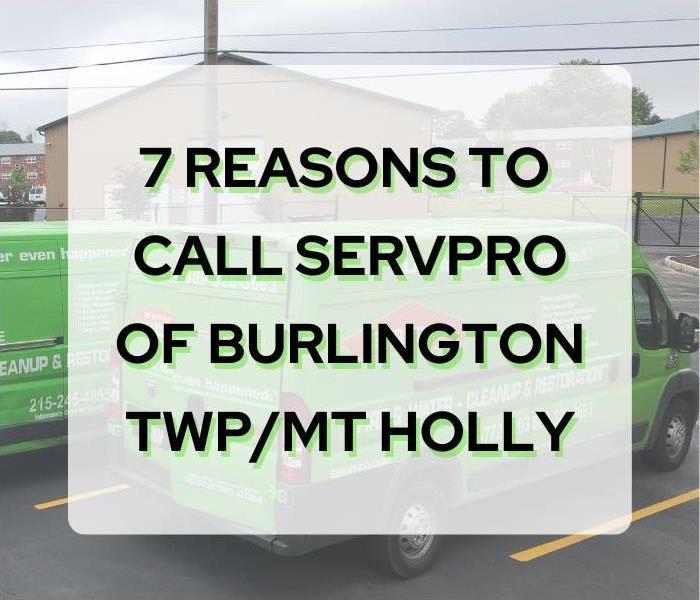 At SERVPRO of Burlington Twp./Mt. Holly, we take pride in how we take care of our customers in the New Jersey area. When disaster strikes, our professionals know what to do to minimize the damage. Here are seven reasons you should chose SERVPRO of Burlington Twp./Mt. Holly.
Faster to any disaster: From the moment the call comes into our office, our crew is there within the hour to assess the situation.
No job is too big or small: We have the tools and experience it takes to for any size job, big or small. There's nothing our team can't handle.
One-stop shop: We are a full-service restoration provider, meaning we do the construction after the initial demo/cleanup.
Franchises are individually owned and operated: The quality of service you get depends on the experience of the team at each franchise. Between our owner and the operations managers, we have a combined 60 years of experience.
We are a preferred vendor: We have partnered with a number of large companies such as State Farm, Travelers, Chubb & The Philadelphia Contributionship, etc.
Easy claim process: We will work with the customer and their carrier for payment directly from the carrier to ease the financial burden on the customer.
Highly trained professionals: Not only do our managers have experience in the field, but our crew is required to complete certification training to ensure credibility when working with our customers.
As always, SERVPRO of Burlington Twp./Mt. Holly is here to help! For more information, please call us at 609-326-3663.