5 Steps to Take After a Storm
7/29/2022 (Permalink)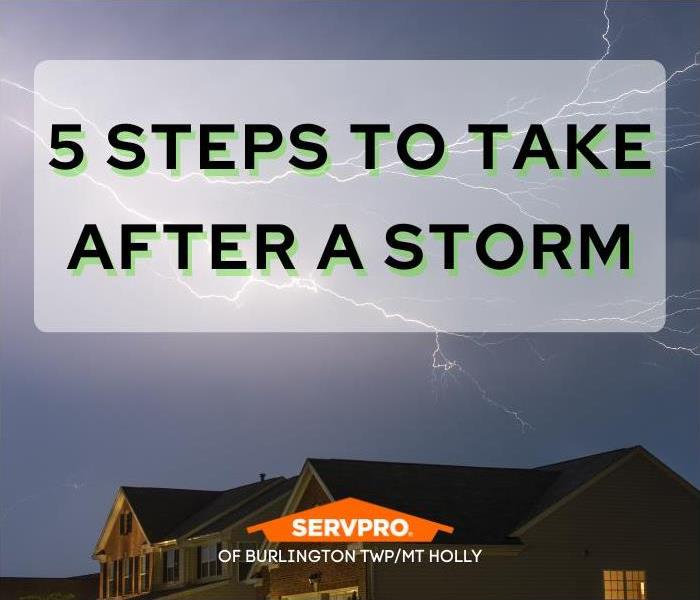 Mother Nature doesn't care about the basement you remodeled or the back porch that took you months to build. She'll blow through Burlington Township, New Jersey and won't take a second look back at the damage.
Here are five steps you should take AFTER a storm:
Check your home for any standing water. Flood water can be quickly contaminated with unknown dangerous chemicals.
Never use a wet electric device. When disaster strikes, our first move is to grab our phones. Make sure not to use any electronics that may have been affected by the storm.
Apply for the help you need. There are a ton of financial relief programs supporting homeowners, property owners, and businesses that may have been interrupted by a disaster.
Be careful near damaged buildings. Leave your home or building if you hear shifting or unusual noises. This could mean the building is about to collapse. If you hear something, say something.
Call your insurance company. If you suspect damage to your property. Once a claim is issued, your next call should be to your local SERVPRO, the #1 choice in cleanup, restoration and construction.
SERVPRO of Burlington Twp./Mt. Holly is a preferred vendor for major insurance companies including Travelers, State Farm, Chubb, etc. We will work with the customer and their carrier for payment directly from the carrier to ease the financial burden on the customer.

If you are in need of water damage restoration services, call us at 609-326-3663, 24 hours, 7-days a week.